2022 BWNC Mentorship Program。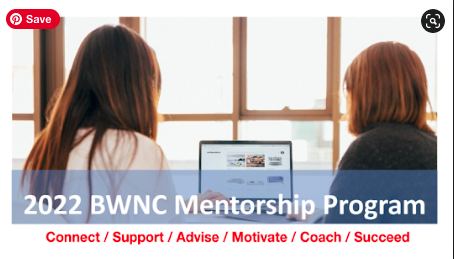 活動簡介
A FREE 6-month program (5/15/2022 to 11/15/2022) with the aim of helping you in both work and life.
A great opportunity for you to learn from executives, senior business leaders, technical experts and HR professionals from well-known companies such as Apple, Amazon, Meta, Google, Cisco, Adobe, Marvell, Nvidia, Morgan Stanley, Cadence.
BENEFITS:
Achieve personal growth via learning from experienced professionals and peer mentors.
Gain access to an extensive professional network.
Be part of a trusted and supportive community.
Better understand others and improve your relationships with your boss, coworkers and family.
Be supported and encouraged to get your dream job.
Feel more confident and productive at work.
Have more friends and fun.
TO FIND A MENTOR:
Please submit your application here, the deadline for application is 4/30/2022.
TO KNOW MORE:
Please see this FAQ or send an email to mentorship@bwnc.org.
報名